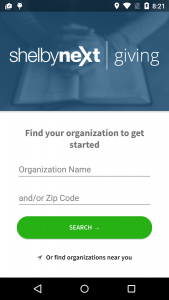 Friends,
We are pleased to announce that we have expanded and streamlined the giving process at First United Methodist Church by upgrading our online giving system. You will see the difference when you click on Donate Online. You will be taken to our new web based interface. Once you setup your account, you will be able to donate to various funds and causes from your web browser.
What is particularly exciting is that in addition to our new web based giving, we are now able to provide you with an iOS and/or Android application that can be accessed from your phone or tablet. Once you sign up within this application, you can make donations from a debit or credit card at any time.
Not in church? You can quickly and easily donate from your phone. If there is a natural disaster and you wish to donate to the United Methodist Relief Fund, we will make that available to you on your device and our website.
You can download the app from the links below. Then search for First United Methodist Church and/or the church's 60067 zip code, select the church, setup your card and that is it.
If you have any problems give us a call at the church office.
We want to thank you for supporting our church and ministries. Together, we are the body of Christ in the world.
iOS ShelbyNext / Giving application.